Welcome to the Bethesda-Chevy Chase AAUW website! We are an active branch of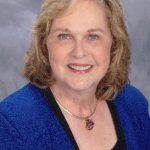 about 50 members. We meet monthly at Fox Hill, a senior community in Bethesda, Maryland, and have educational programs each month. Many of our members are involved only with the monthly programs, but a number also participate in public policy issues, particularly at the state level, and in activities such as book clubs.
Please feel free to contact me to talk more about the branch and answer any of your questions. Our current newsletter is posted on this website, so you can get some idea of our current programming.
You can learn more about national AAUW at AAUW.org and about Maryland AAUW at aauw-md.aauw.net.
AAUW has been empowering women as individuals and as a community since 1881, We continue to advocate for women and girls through the legislative process, the courts, and education.
We hope you will join us. You are welcome to come to any meeting as our guest.
Pat Stocker, Ph.D.
President, Bethesda-Chevy Chase AAUW
Maryland AAUW Woman of Distinction 2022
Former President, Maryland AAUW

7620 Old Georgetown Road, #1230
Bethesda, MD 20814
---
Below is the text of the speech that Pat Stocker, President of the Bethesda-Chevy Chase AAUW Branch, made at the National Conference for College Women Student Leaders in May 2022, The speech was given because of her selection as Maryland AAUW's Woman of Distinction for 2022. She would be grateful for your thoughts on the speech – and your thoughts on women who have influenced you in your life. Thanks!
LESSONS FROM OUR FOREMOTHERS
By Pat Stocker, Maryland AAUW 2022 Woman of Distinction
National Conference for College Women Student Leaders
(NCCWSL) May 26, 2022
Introduction made by Kate Campbell Stevenson
Thank you, Kate, for those kind words. I am honored to be with you today as part of your NCCWSL experience. I hope you have made new friends, learned something about yourself and your leadership, and had fun as well! As Kate mentioned, I was born and raised in North Dakota, and like all of us gathered here today, my upbringing had a profound impact on who I am today. I will guess that a few of you here may be from colleges in North Dakota, and perhaps a few others have visited the state – but not many, I fear. North Dakota is the least visited of all 50 states. There are more cattle there than people. And it was really cold in the winter. Except for Alaska, it's the coldest state in the country. I remember that sometimes it would be below zero – Fahrenheit, not centigrade! – for weeks. Temperatures are below zero an average of 65 days a year in the northern part of the state. You have to be hearty to live in North Dakota! Growing up there really made people aware of their environment – of working hard – and of learning to rely on each other. But in the summer there also were beautiful, huge fields of sunflowers – all facing the same direction toward the sun. I know that whether you were raised in a big city or a rural area or a historic area, you have the same sense that you are a different person because of that.
Full speech click here