Bethesda-Chevy Chase AAUW Fall Program Schedule 2016-17
ALL MEETINGS ARE OPEN TO MEMBERS AND VISITORS.  NO RESERVATIONS ARE NEEDED, AND THERE IS NO CHARGE FOR REGULAR MEETINGS EXCEPT FOR THE DECEMBER AND MAY LUNCHEONS, FOR WHICH RESERVATIONS ARE REQUIRED AND FOR WHICH A FEE IS CHARGED.
All meetings unless otherwise noted are held at:
FOX HILL
8300 Burdette Road
Bethesda, MD  20817
 This facility is just inside the Beltway at River Road.   Ample parking is available at the site. 
---
Sept. 10, 2016, 10:00 a.m., Fox Hill
Senator Susan Lee
District 16, Maryland Senate
Women's Issues in Maryland:  A Look Ahead to the Maryland Legislative Session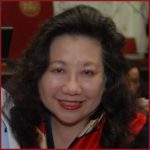 Susan C. Lee represents District 16, which includes Bethesda, Chevy Chase, Friendship Heights, Potomac, Rockville, Cabin John, and Glen Echo.  She was elected to the Maryland House of Delegates in 2002 and to the Senate in 2014 to represent District 16, and has been described as the General Assembly's leader on cyber security and innovation, identity theft, online fraud, and consumer protection issues.  Maryland's strongest advocate for women's issues of concern to AAUW.  Susan led efforts to pass an aggressive agenda of legislation to fight domestic violence, sexual assault, and human trafficking; economically empower women, children and families; secure funding for statewide rape crisis centers; and authorize placing a statue of Marylander and American hero Harriet Tubman in the United States Capitol.  Susan also is a champion of education, the environment, public safety, civil rights, transportation, quality health care, telemedicine, bioscience, clean energy, and emerging technologies.
She is the first Asian American woman and Chinese American elected to the Maryland General Assembly.
Susan is the daughter of a World War II veteran of the US Navy and retired Washington Post artist and a proud product of the Montgomery County public schools, Leland Junior High School, Herbert Hoover Junior High and Winston Churchill High School. She graduated from the University of Maryland and University of San Francisco School of Law. Susan was a member of the Western Montgomery County Citizens Advisory Board, Jewish Foundation for Group Homes Board, Montgomery County Gang Task Force, and Progressive Maryland and Co-Chair of the NAACP Multicultural Community Partnership. She was appointed to serve on the United States Patent and Trademark Advisory Board during the Clinton Administration.
---
Oct. 15, 2016, 10:00 a.m., Fox Hill
Mahnaz Rezaie, AAUW International Fellow, 2015-2016
Women's Rights Perspectives from an Afghan Woman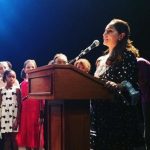 AAUW International Fellow (2015-2016) Mahnaz Rezaie has dedicated much of her time as a photojournalist,documentary filmmaker, writer, and poet to advocating for the rights of Afghan women. For Rezaie, art offers multiple ways to "capture terrible odds and discrimination [and] … protest against social and cultural injustice."
Born in Afghanistan, Rezaie fled the country with her family, and they moved to Iran when she was 8 years old to avoid the Taliban. She won a scholarship from Middlebury College in Vermont, where her advocacy work gravitated toward helping the women of Afghanistan. "I have seen the difficulties of Afghan women around me," she shared with us. "I have felt their pain, and I know their wishes. I advocate for Afghan women because it is advocating for my right, for [the] rights of my sisters and other close women around me."
Her fight for Afghan women's rights has not gone unnoticed. In 2014 she was honored at the Women in the World Summit in New York for her short film, which explores how wearing the hijab affected her relationships when she first arrived in the United States.
Through her various art forms, Rezaie has sought to examine the diverse and complicated issues that Afghan women and girls face on a daily basis, including pursuing an education, finding a voice in Afghan society, and navigating the sensitive and complicated issue of the burqa. Most recently, Rezaie has worked on addressing these issues, and others, by organizing different Afghan women's reading events at universities, working on the launch of an annual Afghan film festival in Washington, D.C., and starting the Blue Wings Project with the head of her department at George Washington University (she's pursuing a master's degree in photojournalism from GWU's Corcoran School of the Arts and Design). The Blue Wings Project, which is designed to make international connections between writers and artists from all disciplines, recently invited Corcoran undergraduate and graduate photojournalists and new media students to join an online forum where they read and respond to the writings of women authors living in Afghanistan.
---
Nov. 12, 2016, 10:00 a.m.
Sculptor Joan Danziger
Studio Tour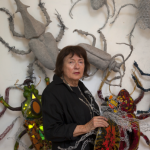 Joan Danziger has over 40 years of experience as a working artist. She earned a bachelor of fine arts in painting from Cornell University and then went on to study at the Art Students Leagues in New York City and the Academy of Fine  Arts in Rome. She also attended artist residencies in Greece and France. Her public art can be seen in D.C., Maryland and New Jersey.  Museums, including the National Museum of Women in the Arts, the New Orleans Museum of Art, the Susquehanna Art Museum and the New Jersey State Museum, have acquired her pieces for their permanent collections.
In the late 1960s, Danziger transitioned from painting to sculpture. "I got tired of being confined by the canvas," she says. Nature and animals figure strongly in her work—a result, she says, of lots of time spent living outdoors, backpacking in the western United States and summering in Idaho. But the artist has a particular fondness for exotic animals not found in those parts—rhinos, giraffes, zebras and parrots—and a definite flair for the whimsical. She has sculpted figures, half human and half animal, performing acrobatics, cycling and playing in bands.
Her work has been shown at the Morris Museum, Rutgers University, and the New Jersey State Museum. Her work is in: the New Orleans Museum of Art; the Smithsonian American Art Museum, the National Museum of Women in the Arts, and the Susquehanna Art Museum.
---
Dec. 10, 2016 Noon Luncheon
Location TBA
Mark Medis –President, Guggenheim International
International Implications of the November Elections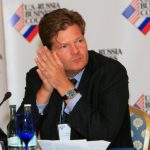 Mark Medish is President of Guggenheim International, a division of the diversified financial services firm Guggenheim Partners, LLC, which currently has over $200 billion of assets under management.  Prior to joining Guggenheim in 2012, he was Executive Vice President of APCO Worldwide, Inc., a global public affairs firm.  An expert on international issues and conflicts, he will talk with us about the implications of the Presidential, Senate, and House elections from the perspectives of the international community.
Medish worked with the Carnegie Endowment for International Peace, where he served as Vice President for Studies focusing on Eurasia and China.  From 2001 to 2006, he was a partner at the international law firm Akin, Gump, Strauss, Hauer & Feld, LLP, where he led an advisory practice on sovereign debt restructuring and emerging markets investment.
Medish served at the White House as Special Assistant to President Bill Clinton and Senior Director for Russian, Ukrainian, and Eurasian Affairs on the National Security Council, 2000-2001.  He also served at the U.S. Treasury as Deputy Assistant Secretary for International Affairs, under Secretaries Robert Rubin and Lawrence Summers, from 1997 through 2000.  His regional portfolio covered Central and Eastern Europe, Eurasia, the Middle East, and South Asia.  He dealt with Group of Eight issues as well as the IMF, World Bank, and EBRD.
His opinion columns often appear in The New York Times, The International Herald Tribune, The Financial Times, The Washington Post, The Washington Times and other major news outlets.  Medish was educated at Georgetown, Harvard, and Oxford.  He has held Fulbright, Mellon, and Shintaro Abe scholarships.
---
Jan. 14, 2017
Marilyn Kresky-Wolff, Executive Director, Open Arms Housing
Working to End Homelessness for People with Mental Illness and Other Disorders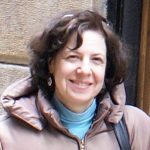 Open Arms Housing works to end homelessness for people with mental illness and co-occurring disorders by developing community-based permanent housing with supportive services.  Marilyn Kresky-Wolff joined Open Arms Housing as Executive Director in January 2009. She has a MPH from the Johns Hopkins University and an MSW from Catholic University of America. She has developed model community-based clinical and residential programs, has provided clinical supervision for teams of case managers, and has engaged in extensive legislative advocacy. She was co-founder of Crossing Place, a Woodley House program, in Washington, D.C., the Director of Adult Homeless Mental Health Services at the Mental Health Association of Montgomery County, MD, and Chairperson of the Montgomery County (MD) Coalition for the Homeless.
Prior to coming to OAH, she was Deputy Project Director, U.S. Substance Abuse and Mental Health Services Administration's (SAMHSA's) Homelessness Resource Center and Senior Analyst for the Collaborative Initiative to Help End Chronic Homeless.  She also served as a panel member at SAMHSA's Expert Panel on Prevention of Homelessness in 2011 and was a presenter at the National Alliance to End Homelessness and Housing First Partners National Conference.